conversion and extension

Comprehensive school

, 'Dederichsgraben', Rheinbach
the project
one school - two locations
The existing 'Realschule' (location 'Villeneuver Straße') and the existing 'Hauptschule' (location 'Dederichsgraben') run out at the end of the school year, in summer of 2019. The buildings of the two schools are being continuously taken over by the comprehensive school founded in 2014. To this end, conversion and refurbishment measures as well as expansion and new construction measures are required at both locations.
project data
location
'Dederichsgraben', Rheinbach
building type
school buildings
services
conversion and extension
area
education and research
conversion and reconstruction
scope of services
General planning HOAI service phases 1-9, architecture, statics, building services engineering, building physics, space planning, landscaping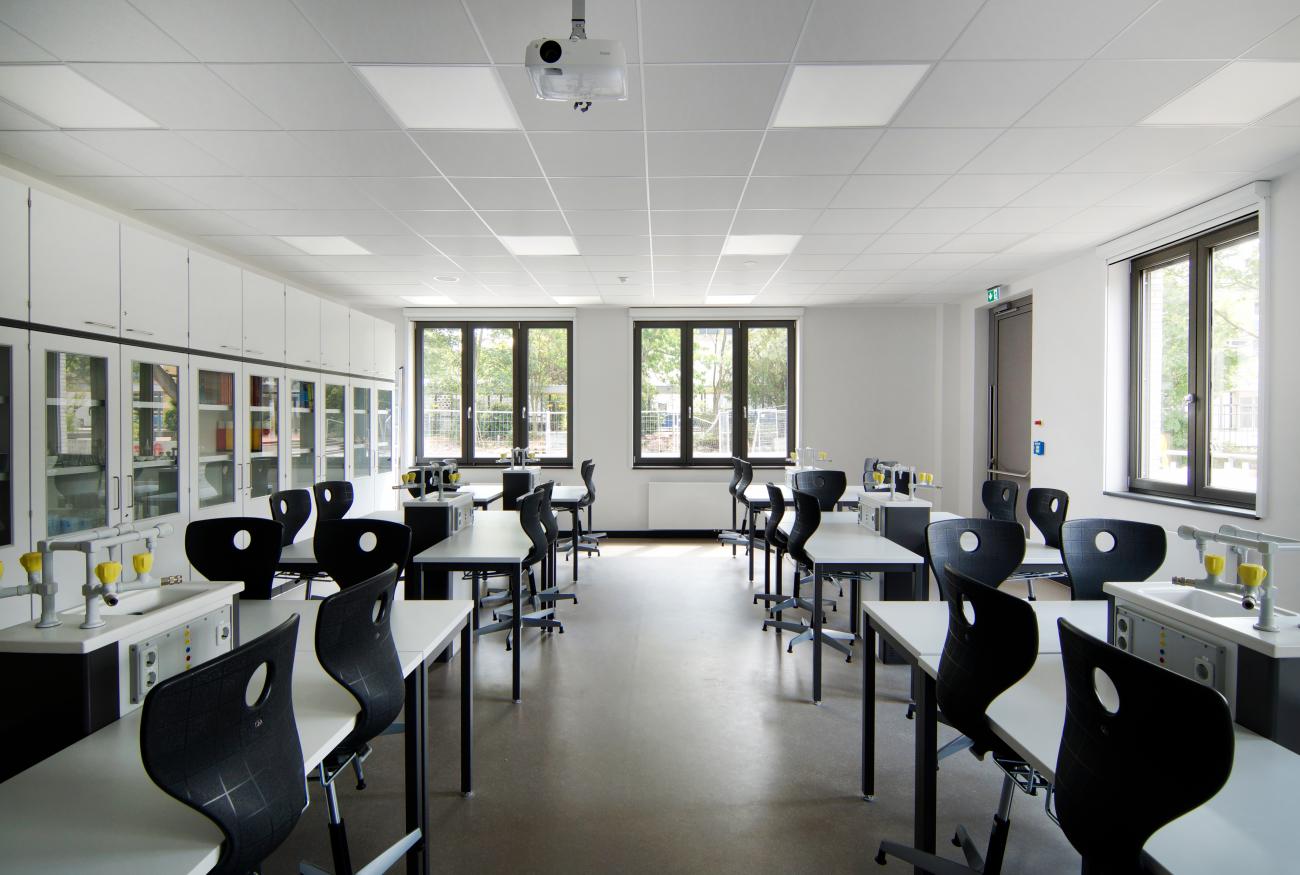 our work
In the former secondary school at Dederichsgraben moves to the upper school (born 9-13) of the new comprehensive school. A space program specially designed to meet the changing needs of school education requires floor plan-changing renovation measures in the existing building. Old classrooms that have been designed for use in classroom teaching are being transformed into modern self-learning centers with differentiation spaces.
Adaptation to upper-level education makes it necessary to provide additional science rooms at this location. For this purpose, a single-storey extension is being built.
The new building is an L-shaped structure opposite the existing building, so that the school yard is spatially defined. Access is via the school courtyard.
Since the specialist rooms are only needed when the school has grown to all grades, an expansion with two additional specialist rooms and a collection room is planned in a second construction phase.
The overarching material and color concept provides coordinated bright, warm yellow and orange tones, gray and white. At the 'Dederichsgraben' site, the orange of the panels sets accents in the gray, stucco facade and in the entrance area of ​​the new building.
Fotos: © 2022 Beyss Architekten GmbH, Fabian Franken
Bauprozess am Beispiel eines Fachraumes
Im zweiten Bauabschnitt wurde ein weiterer Fachraumriegel für die Naturwissenschaften errichtet. Der Erweiterungsbau vergrößert den 2019 fertiggestellten Neubau und komplettiert das Gebäude in L-Form. Der Rohbau wurde im Februar 2022 fertiggestellt. Im Jahr 2023 beginnen in einem dritten Bauabschnitt die Planungen für die Aufstockung des Fachraumriegels.
Um den Bauprozess zusammenzufassen, haben wir im Folgenden eine Bildergalerie am Beispiel einer Ansicht auf einen neuen Fachraum zusammengestellt.