conversion and extension

Gesamtschule

, 'Dederichsgraben', Rheinbach
the project
one school - two locations
The existing 'Realschule' (location 'Villeneuver Straße') and the existing 'Hauptschule' (location 'Dederichsgraben') run out at the end of the school year, in summer of 2019. The buildings of the two schools are being continuously taken over by the comprehensive school founded in 2014. To this end, conversion and refurbishment measures as well as expansion and new construction measures are required at both locations.
project data
location
'Dederichsgraben', Rheinbach
building type
school buildings
services
conversion and extension
area
education and research
conversion and reconstruction
scope of services
General planning HOAI service phases 1-9, architecture, statics, building services engineering, building physics, space planning, landscaping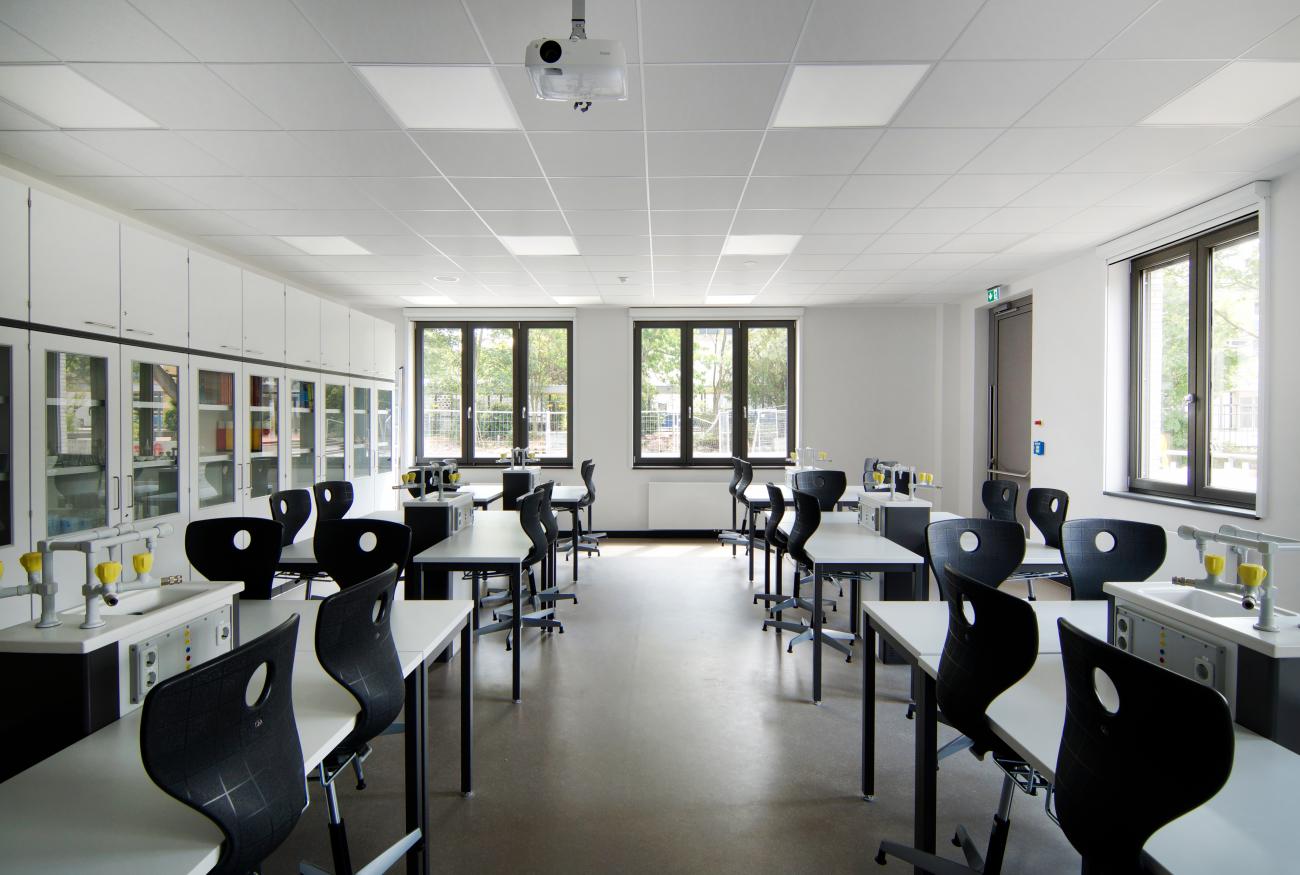 Unsere Maßnahmen
In die ehemalige Hauptschule am Dederichsgraben zieht die Oberstufe (Jahrgang 9-13) der neuen Gesamtschule. Ein speziell auf den veränderten schulpädagogischen Bedarf ausgerichtetes Raumprogramm erfordert Grundriss verändernde Umbaumaßnahmen im Bestand. Alte Klassenräume, die auf Frontalunterricht ausgelegt wurden, werden zu modernen Selbstlernzentren mit Differenzierungsräumen umgestaltet.
Die Anpassung an den Oberstufenunterricht macht an diesem Standort die Bereitstellung zusätzlicher naturwissenschaftlicher Fachräume notwendig. Hierfür wird ein eingeschossiger Erweiterungsneubau errichtet.
Der Neubau wird als L-Förmiger Baukörper dem Bestandsgebäude gegenüber gestellt, so dass der Schulhof räumlich gefasst wird. Der Zugang erfolgt über den Schulinnenhof.
Da die Fachräume teilweise erst benötigt werden, wenn die Schule auf alle Jahrgangsstufen angewachsen sein wird, ist eine Erweiterung um zwei zusätzliche Fachräume und einen Sammlungsraum, in einem zweiten Bauabschnitt, geplant.
Das übergreifende Material- und Farbkonzept sieht aufeinander abgestimmte helle, warme Gelb- und Orangetöne, grau und weiß vor. Am Standort 'Dederichsgraben' setzt das Orange der Paneele Akzente in der grauen Riemchenfassade und im Eingangsbereich des Neubaus.